Pros
Investment choice
User friendly platform
Allows for both hands on and hands off investing approach
See detailed descriptions of how others invest
Referrals
Cons
Complicated to understand all the fees
The platform is still new
Addictive 🙂
Attention!
For those interested in long-term investments, I now wholeheartedly recommend Bitcoin as the primary option to consider.
However, it's essential to educate yourself about this digital asset before diving in, as it can take time to fully grasp its intricacies and potential.
A fantastic starting point is the book "The Bitcoin Standard" (Amazon), which provides an in-depth look at the history, principles, and technology behind Bitcoin.
Once you're ready to invest, most major exchanges offer similar fees and services, so choose one that best suits your needs. Personally, I use Crypto.com.
It's crucial to transfer your Bitcoin to a secure wallet once you've made your purchase, as leaving it on an exchange can pose risks.
To truly make the most of your investment in Bitcoin, take the time to study and understand its workings. Your financial journey will benefit from a well-informed approach.
I wish you the best in your endeavors.
Sincerely
Michael J. Peterson
.
Are you looking for a suitable cryptocurrency exchange platform that allows copy-trading?
Or are you a successful trader who wants to earn a bit extra by sharing your strategy with the rest of the crypto community?
Welcome to the future. Welcome to Iconomi.
In this Iconomi Review I will navigate you through the intricate details of the still new platform.
I will walk you through my experience, how to choose the best strategy, pros, cons, alternatives, sign up and much more. 
Use the following table of contents to immediately find what you are looking for.
(Disclaimer: The trading of cryptocurrencies has potential rewards, and it also has potential risks involved. Trading may not be suitable for all people. Anyone wishing to invest should seek his or her own independent financial or professional advice.)
What is Iconomi?
Iconomi is a copy trading platform, similar to eToro, but only for cryptocurrencies. 
You fund your account and then pick one of the many strategies the platform offers. Simply put, you are letting someone else take care of your investments by copying their strategy.
Alternatively, you can also create your own strategy and, if successful, you can charge others to copy your strategy. 
Crypto Strategies
Copy Someone Else's or Create Your Own
Iconomi offers experienced strategists to make a collection of crypto assets which they can share with other strategies to copy or investors to adopt.
A strategist is a person who does all the market search and thinking to make the best strategy. They have their own share in the strategy, and so they make any necessary modifications and amendments needed to make the strategy succeed.
Investors who are new to the crypto world or simply do not have the time to run the lengths of market surveys to choose a strategy can copy a strategy from a fund manager.
1. Copy Someone Else's Strategy
…and how I pick the best strategy to copy
An investor can copy a strategy with their own assets and automatically copy the same changes their strategist makes. Copying a strategy requires a fee. The amount is decided by the strategist.
The copying fee can be changed twice a year. It is increased or decreased as per the choice of strategists.
The copying investors get notified a month prior to the increase of fee in order to allow them some time to reevaluate their strategy or withdraw from it.
So here it goes:
Sign up was pretty easy and straight forward. I then immediately transferred money to try out some of the strategies.
When you first click on the strategies section you will see something like this:

You will see some of the top performers of the past 24 hours.
I guess they are featured so new investors can get some exposure however when picking a strategy to earn serious money, a 24 hour window does not seem to be the most helpful metric.
So after some scrolling and clicking I finally find something more useful: The top performers within a one-year span. Voila:
Now this is much better.
It is pretty insane what kind of returns some of these investors / teams of investors were able to generate within the past year. The top strategy "Pina Criptohold" for example, was able to generate almost 4000% in returns within only 1 year. (turn $1000 into $400.000) (!)
I could just go ahead and copy the best performers strategy but there are a couple of more things to consider when it comes to making a decision, such as
Copy Fee: Decided by strategist. I have seen copy fees anywhere from 0% to 5%.
Performance Fee: This is usually the biggest one. From my experience, a "normal" performance fee is around 5% but there are also some very successful strategists who charge up to 25%. But note that the performance fee is only charged when copiers make a profit.
Exit Costs: So far I have only seen 0.5% to exit. This is merely to cover the trading costs. The strategists or Iconomi don't make any money when you want to take home some earnings.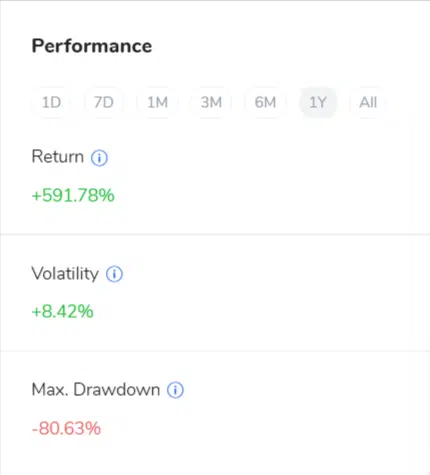 Volatility: Most of crypto investing is a lot higher in volatility than traditional assets. The strategy above for example has a volatility of 8.42% (how much the price has moved up or down over the past year).
Maximum Drawdown: Even though the above strategy has had an impressive 591.78% return over the past year, there was also a moment when the strategy went down a total of over 80%. Be prepared for that!
Tenure: This is one of the big cons for Iconomi in general. It is still new and even the more experienced strategists have only been around for a year. Make sure to check how long a strategy has been around for before making your choice!
Trust: How many other investors trust these strategies? Luckily you can see the number of people who trust a strategy and also how much money the strategy manages. So maybe there is a strategy with an extraordinarily high return however very few people are copying the strategy. That may be because the strategy is very volatile or has not been around for very long.
Investing style: If you only take about returns, then fair enough, this may not concern you. However maybe you prefer to trust your investments with someone who believes in fundamentals, or someone who is more into chart analysis as opposed to reacting to broader macro events. This is completely up to you but when I made my choice I also made sure that my interests and the interests of the strategists were aligned.
| | |
| --- | --- |
| Fees | 0.00% |
| Beginners | 9/10 |
| Advanced Users | 10/10 |
| Account Minimum | $0 |
2. Create Your Own Strategy
Creating your own crypto strategy takes place in a matter of seconds. After signing up your Iconomi account, you can go to "My Crypto Strategies" and proceed to follow the simple instructions. Here is a simple outline of the procedure:
Make sure to make up a distinct name for your strategy and ticker. A ticker is a part of your strategy's direct URL and cannot be changed afterward.
The next step is to simply select the cryptocurrencies you prefer and their weightage by percent.
To make your strategy go live, you need to make your first buy-in or your first investment, no matter how little it is (minimum €100). By doing so, your strategy goes live. You can also make any changes to your strategy any time you wish.
If you wish to earn extra money, you can set a "performance" or copying fee. This way, a copier pays a fixed annual fee.
Now all you have to do is invite your contacts to copy your strategy.
3. Referral Program
How Does it Work?
The referral program of Iconomi works the same as any other app; you bring users and get paid. Iconomi offers a long-term referral program through which you collect a small amount of money with each referral you bring to it. Each month you will be paid your collected referral amount collectively.
You would not only earn when someone creates an Iconomi account through your referral link but also gain money whenever they copy a crypto strategy or add funds to it. You can invite friends by sharing your referral link or code, by sending email-based invites, or by sending out gift cards, and this reward time period of referrals lasts for two years.
Sign Up
Signing up is an easy process that can be done even on your smartphone. Here is an outline of instructions you need to follow to sign up for your Iconomi account.
Account Opening
To create an Iconomi account, go to the official Iconomi website and click on the "Get Started" button.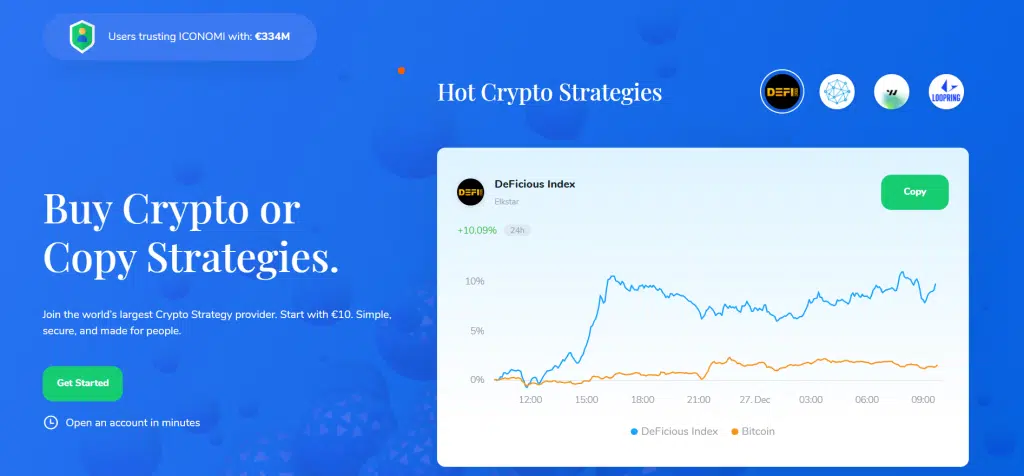 You will need to enter a secure email ID to which a verification email is to be sent. Next, select a suitable password that is moderately difficult and complete the verification process by clicking on the "Upgrade" button. You will need to provide your particulars, such as country of residence, ID, or passport.
Moreover you are required to add the scanned pictures of your documents and face for identification. For these reasons, a mobile phone with a camera is recommended to scan and upload the documents on the spot without any wastage of time.
Deposit and Withdrawal
Deposits and withdrawal with Iconomi is pretty straightforward. You will be given two options, i.e., money transfer or crypto transfer.
1. Money Transfer
To deposit money to your Iconomi account, simply log onto your account and click on the "Money Transfer" option. Make sure to use the bank account having your particulars that match the ones you provided to Iconomi; otherwise, your deposit will be rejected. When depositing, do remember your "Reference Code" because you will be needing it later during the deposit process.
To withdraw money, click on the withdraw option. Just add your bank account along with the amount you wish to withdraw. Always make sure to check your details again. The money transfer process takes about 1-3 working days to be completed on average.
2. Crypto Transfer
To deposit crypto, click on the "Crypto Transfer" option. You will be presented a list of assets from which you can select the assets you wish to deposit.
Similarly, to withdraw assets, go for the withdraw option. However, keep in mind that you can not withdraw assets from a strategy. In order to withdraw assets from a strategy, you will need to end the strategy.
Interface
Iconomi has the specialty of simplifying things to provide a straightforward and satisfactory experience to its users.


It has a simple interface having the benefit of trading, storing, and exchanging cryptocurrencies, as well as making complicated orders, all under one platform.
Trading Options
Trading is the far most convenient option for newbies or the people having packed schedules and zero time, and so Iconomi has a far ending range of trading options.
Costs
When dealing with crypto, there are many costs and charges that you need to be well aware of before investing your time and money. Let's have a look at different fees and costs that you may come across while working on Iconomi.
Iconomi Fees
On Iconomi, the official fees are explained beforehand, such as copying fee, performance fee, and adjusting the strategy fee. The copying fee is already explained in detail above.
Performance Fee is the fee charged from the investors when their copied strategy shoots up, succeeds, and gains profit. This fee is paid to the strategists for their hard work and critical thinking and is also determined by them.
It is charged according to the number of initial investments of the copiers, and its collection schedule is designed by the strategist, which can be weekly, monthly or quarterly.
However, the investors are not charged this fee only in case of downward fluctuation, and the crypto strategy fails to perform well.
Performance fee directly benefits the strategists and motivates them to design more strategies as well as encourages potential analytics and strategists to enter and work on Iconomi.
Similarly the interface is very clear and transparent. The fees are designed in a way so the investors only pay when their investments make a profit.
Transaction Fee is another additional cost associated with each transaction that you make. This fee does not profit Iconomi; rather, it goes to the cryptocurrency miners that work for the accurate security of the network as well as direct your transaction to the blockchain network.
Different Plans
Other plans also include their own fees, which are fair and justifiable, such as Rebalancing or Adjusting Fees. It is also called "changing the crypto strategy structure fees' ' referring to the fees paid by the copiers in case they decide to adjust or modify their strategy.
However, this fee is not charged by the Strategists themselves, and changing a strategy does not directly cost any charges. The Rebalancing fees are actually the trading fees required due to the change or trade of different cryptocurrencies.
Hidden Fees?
In the case of buying and selling cryptocurrency, Iconomi costs a fee called "Spread," which is not mentioned along with the exchange rate. The spread is a small amount in addition to the original exchange fees due to the fluctuation in the market.
In addition to that, there is also a fee associated with the addition of funds into a strategy in case they are not Ethereum or Bitcoin. The Iconomi needs to make and exchange itself in such a situation, and of course, these exchange fees have to be paid.
Additional Features
Iconomi has set its goals to link the economy of the past with that of the future, enabling both new and seasoned investors to shoot their shot at big investments without going neck-deep into dozens of blockchain projects.
Human Advisors
To provide a safe and wonderful user experience, Iconomi has many professional and accredited advisors enabling heaps of different people to invest in Iconomi's projects and cryptocurrencies.
Customer Service
Iconomi has excellent customer service having a detailed offline help center as well, which provides intricate guidelines to even the simplest of operations such as signing up.
Furthermore it explains in-depth the complexities of the system to make the experience better suited for beginners to professionals, thereby promoting inclusivity which is the motto of Iconomi.
Pros and Cons
Before opting for a serious investment, it is always wise to weigh its pros and cons. So here are some pros and cons of Iconomi to help you decide whether it is the one suitable for you or not.
Pros
The biggest pro of Iconomi is its user-friendly interface and inclusive environment free of undesired complexities. It allows and welcomes potential investors open handedly into the crypto industry, irrespective of their extent of crypto knowledge.
Its DAA foundation works the best for the less aware people and the ones who are always on the go, as it automatically picks up the coins having the highest chance to succeed. Moreover it also benefits crypto experts and masterminds along the way and serves as an excellent source of passive income for them.
However, the fact that makes Iconomi stand out from the pack is the strong and well-guarded safety that makes it a reliable and stress-free choice.
Cons
It takes a while until you get a good sense of how everything works out with the fees.
Furthermore, the platform is still new. (started in 2018) Therefore it is still too early to call it a success.
FAQs
Is Iconomi worth it?
A simple answer, Yes. Iconomi is one of the first platforms to introduce non-accredited users and make crypto dealing easy and convenient for them. It provided expert and trusted strategists to deal with the fluctuating world of cryptocurrencies, therefore, promising a bright future ahead.
Is Iconomi a scam or legit?
Iconomi is one of the first platforms to introduce and efficiently execute the concept of DAAs and has been successfully gaining tons of appreciation from all over the world. It is totally authentic and legit in terms of security, as well as offering a wide variety of excellent strategies that benefit investors and strategists alike.
Where to buy Iconomi?
Buying the ICN token is currently impossible.  The ICN token, moved to a more traditional legal structure and has therefore eliminated ICN in favor of tokenized company shares.
What is ICN crypto?
ICN crypto or Iconomi is a digital asset management platform that allows users to exchange cryptocurrencies as well as invest in different strategies made by themselves or copied from strategists. The foundational principle of ICN is one of DAAs which has been discussed extensively in this article.
How much money can you earn with Iconomi?
Like other investments, there is always a risk. The extreme highs and lows of crypto are more beneficial than any other investment, and Iconomi is dedicated to making it efficient and convenient for you. For example, unlike a US stock exchange, you can make up to 20 percent of your investment with Iconomi.
Are there any promotions when signing up with Iconomi?
Iconomi does not have any promotions specifically while signing up. However, if you are a potential crypto specialist and have a decent amount of folks in your crypto circle, then you can surely benefit from your skills by monetizing your strategies.
By doing so, you would not only be able to profit from your coins' success but you will also be given copying and performance fees by the investors copying your strategy. In addition to that, you will also get Influencer Rewards if you promote your knowledge to the mass public through other platforms as well.
How safe is Iconomi?
Iconomi is a totally safe platform to keep your assets secure due to its multi-story authentication process. A part of your fees goes to strong security organizations protecting your assets as well as providing safe transactions. If you wish to transfer your assets, you will need access and authentication from many organizations ensuring a secure transfer.
How does Iconomi make money?
Iconomi charges a percentage of the fees. They offers different levels of investments to its investors ranging from very low-risk ones to high-risk ones.
It allows the users to invest in a variety of assets and strategies as well as benefits the strategists. The potential strategists are ranked high up, and people copying their strategies usually get profit for sure.
Alternatives
Iconomi Vs. Gate.io:
Although Gate.io is considered to be on the top 10 crypto platforms, it is still not suitable for beginners. The operational team is somehow not transparent, making it ideal for heavily seasoned crypto professionals only. On the contrary, Iconomi serves to be a secure and suitable platform for beginners and professionals alike.
Iconomi Vs. Coinmatics
Coinmatics is an excellent alternative to Iconomi as it works more or less on the same scheme. It provides a large range of info about the crypto world from many different sources, making it popular among the newbies as well. It is equally secure and works on many operating systems, including mobile phones as well.
Iconomi Vs. Etoro
eToro is another famous option; however, its cons sometimes outweigh its pros. On the good side, it offers social trading and free stock and ETF trading.
However, it costs a lot of charges in the form of an inactivity fee and withdrawal fee. The customer support is consistently reported to be difficult to reach, and it is not registered on the stock exchange. Iconomi, on the other hand, has a fair and transparent procedure of investment along with accessible customer support.
Iconomi Vs. 3commas.io
3commas.io is a bot-based crypto trading platform with the intelligent and fast-paced brains of bots working 24 hours around the clock. It is another wonderful platform for beginners to benefit from the endless knowledge and expertise of bots at the same time allowing you to customize your trade.
Iconomi Vs. Shrimpy
Shrimpy is another top-tier crypto platform offering various features and trading tools. It also offers bot support which is accessible to everyone, as well as highly secured transactions.
However, on the downside, it does not have crypto signals and is not available for use on mobiles and so you need to have access to a laptop or PC system.
Iconomi Vs. Primex bt
Primex Bt is pretty famous in the crypto world, and many prefer it due to its many features such as copy trading, low trading fee, and leverage. Like Iconomi, it also offers referral programs to benefit its users in other ways as well.
However, unlike Iconomi, it does not offer a demo account to help beginners. There is no license for many countries including the US, Canada, and Japan, so a wide community cannot benefit from it.
About DDA's
(The complicated version)
Iconomi is specifically curated to accommodate and benefit the people having multiple digital asset tokens, and so its prime focus lies on Digital Asset Arrays, aka DAA.
DAA allows the users having minimal crypto knowledge to manage funds with ease as the users would not have to run through a search for the best individual coin to invest in, rather they invest in Iconomi, which itself selects the safest coins having the highest chance to shoot forward.
DAAs are a combo of different types of digital assets, and so the users can choose and invest as per their will. It serves as an excellent platform to connect DAA managers and investors.
The managers can customize their own investment strategy and can even make it visible to the public to benefit from it. DAA managers can gain popularity through wise decision making which in turn spikes up their rating. Such managers gain access to more investors.
On the contrary, all the different strategies and many safe investment plans by the managers serve to spoon-feed the investors. This allows the beginner and experienced investors alike to invest without thinking and prodding.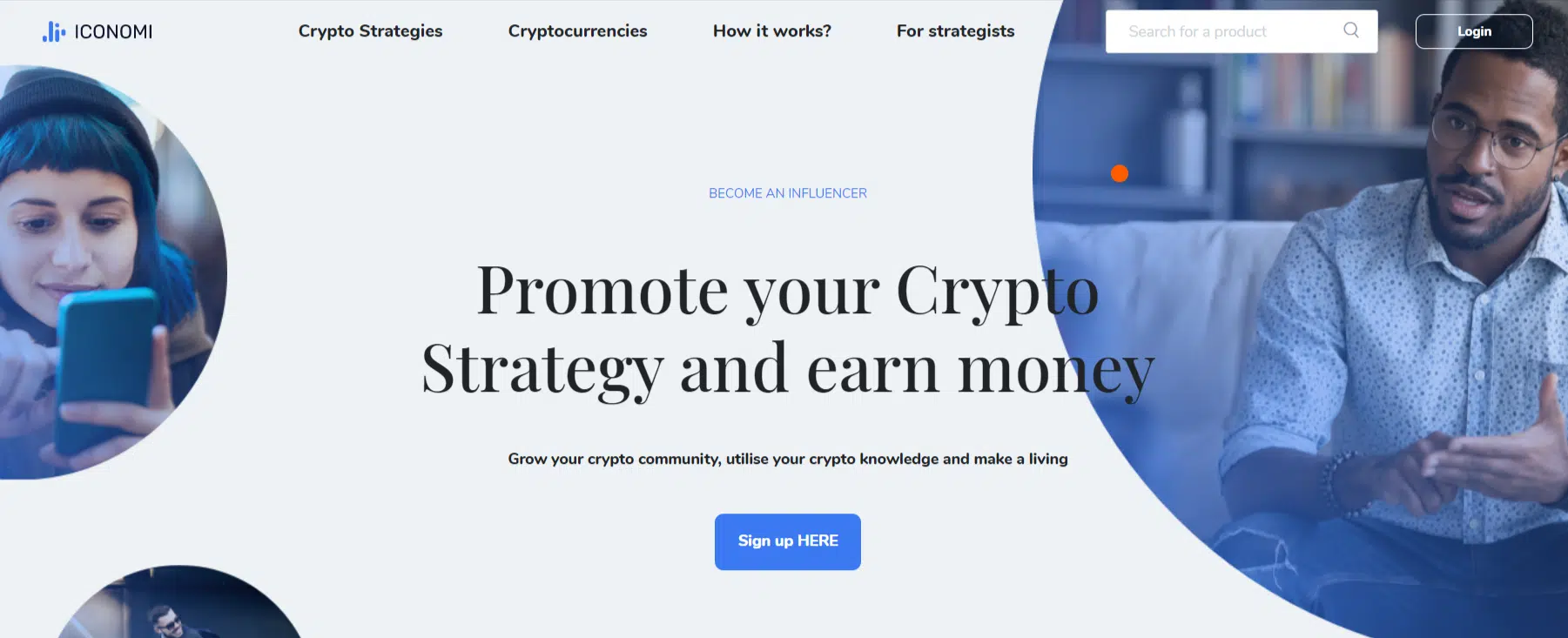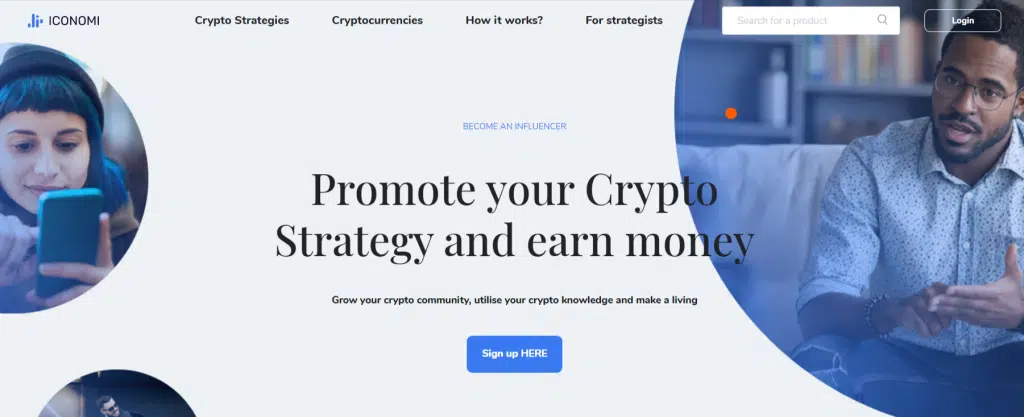 Is Iconomi Worth It or A Scam?
Profiting from its vast experience, Icomomi is an exceptionally innovative and inclusive platform that serves to link the past to the future.
Furthermore it is welcoming many people in the crypto industry and therefore improving its reputation and increasing its pool. It is safe and claims good profits so far. (2022)
Summary
The Crypto world is rapidly overcoming the atmosphere leaving many people curious. You can access it through many platforms, among which a well reputed and eminent one is Iconomi.
However, the downside associated with cryptocurrency is its rapid fluctuation, and thus it is crucial to opt for a suitable platform that keeps your investment safe and sound, along with briefing you about the highs and lows of crypto.
Many investors have been head over heels for Iconomi, and many are investing consistently in it, including myself.
So far I have used the platform for a little more than a month. I have invested in 5 different strategies and only only one of them did not have positive returns so I am very happy with my results so far.
From my experience, I can certainly recommend Iconomi.
Michael is a senior writer at The Robo Investor. He earned his master's at the Craig Newmark School of Journalism at CUNY, and is currently taking CFP courses at the University of Scranton. He has been an avid finance enthusiast ever since he started investing at the age of 23. Meet the Team